Thoughtbox
The magnificent shaft: Drexel's newest mascot
Strolling down 33rd Street, you are met with the refreshing sound of honking cars, the sight of cumbersome skyscrapers and nauseatingly delicious smells of halal.…
Make a dash for cold hard cash
The economy is continuing to inflate like a balloon that is about to pop. The Drexel shaft is penetrating each one of us deeper and…
Fuck ambition
To me, "Ambition Can't Wait" means a lot of things. It means finding a pair of my underwear floating in a mini lake in the…
Mi casa, tu casa… it's everybody's casa
There are far too many University Housing options on Drexel's campus. I can barely decide what sauces to put on my food at Cucina Zapata,…
Apr. 1, 2018
Shoot, I need a gun!
Oh, look. Another one. Unfortunately, this is not referencing a DJ Khaled quote, but instead we're talking about shootings. School shootings to be exact. The…
Apr. 1, 2018
Amazon HQ2 delivered to you
 Following the announcement earlier this year including Philadelphia as a candidate for Amazon's HQ2, we would like to propose a potential location on campus. Myers…
Apr. 1, 2017
Apr. 1, 2017
Apr. 1, 2017
Looking through eyes of scorn
A very strange thing happened to me recently: a man at the Dragon statue called me a whore. Now, I've been called a slut, a…
Apr. 1, 2017
Bernie can still win the presidency
It's certainly a dark time we live in now. I know things are looking bleak – well-respected media outlets are saying things like "President Trump,"…
Apr. 1, 2017
127 hours of gaming later
Like most of you reading this, I go to Drexel. And you know what that means — papers, stress, hallucinations derived from sleep deprivation and…
Apr. 1, 2017
PROOF THE TRIANGLE IS FAKE NEWS
Journalism is a lie. Reality isn't really reality at all. Everything you think you know is probably wrong because papers all over the world have…
Apr. 1, 2016
Apr. 1, 2016
Fuck it, I'm free ballin'.
As I was watching the news today, I was appalled when my vision was accosted with the image of women running around with their…
Apr. 1, 2016
Let's not lie: #Nolivesmatter
I have heard the plebeians grumbling recently about some debate between the hashtags #blacklivesmatter and #alllivesmatter, with some arguing as to which better describes the…
Apr. 1, 2016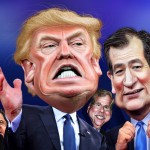 Apr. 1, 2016
Apr. 1, 2015
Pies should be triangles not circles
Last month was the annual celebration of Pi Day, an important holiday that's enjoyed worldwide by math enthusiasts. Interestingly, people who develop severe allergic reactions…