Thoughtbox
Apr. 1, 2018
Shoot, I need a gun!
Oh, look. Another one. Unfortunately, this is not referencing a DJ Khaled quote, but instead we're talking about shootings. School shootings to be exact....
Apr. 1, 2018
Amazon HQ2 delivered to you
 Following the announcement earlier this year including Philadelphia as a candidate for Amazon's HQ2, we would like to propose a potential location on campus...
Apr. 1, 2017
Apr. 1, 2017
Apr. 1, 2017
Looking through eyes of scorn
A very strange thing happened to me recently: a man at the Dragon statue called me a whore. Now, I've been called a slut, a tramp, or a skank before; the usua...
Apr. 1, 2017
Bernie can still win the presidency
It's certainly a dark time we live in now. I know things are looking bleak – well-respected media outlets are saying things like "President Trump," and ...
Apr. 1, 2017
127 hours of gaming later
Like most of you reading this, I go to Drexel. And you know what that means — papers, stress, hallucinations derived from sleep deprivation and caffeine-induc...
Apr. 1, 2017
PROOF THE TRIANGLE IS FAKE NEWS
Journalism is a lie. Reality isn't really reality at all. Everything you think you know is probably wrong because papers all over the world have been deceivin...
Apr. 1, 2016
Apr. 1, 2016
Apr. 1, 2016
Apr. 1, 2016
How to have a debate with your friends
With the 2016 elections looming over everybody, people want to know how they can force their views on others. Many are out of practice since the 2012 election. ...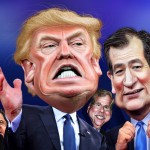 Apr. 1, 2016
Apr. 1, 2015
US blood money should be better spent
President Obama recently made a budget proposal with the usual ridiculous ideas that have come to seem normal from the White House over the past seven years, su...
Apr. 1, 2015
Pies should be triangles not circles
Last month was the annual celebration of Pi Day, an important holiday that's enjoyed worldwide by math enthusiasts. Interestingly, people who develop severe a...